Obituary for Monty Bill Malmberg
Monty Bill Malmberg, 52, of Riverton, Wyoming passed away on June 30, 2018 at SageWest Health Care in Riverton, Wyoming. Memorial Services will take place at 10:00 a.m. on Tuesday, July 3, 2018 at the Chapel of Mount Hope in Hudson's Funeral Home in Lander, Wyoming.

There was a time on a ranch at Mule Creek Junction when Monty and Jack were rounding up cattle, horseback. They separated. Monty was probably ¼ mile across the valley and Jack couldn't tell what he was doing, but Monty was off his horse. So Jack rode over there to find Monty beating the ground with a clump of sagebrush. On closer inspection Monty was wailing away on a rattlesnake! After the snake was beaten to death Jack tried to take the rattles. Monty wouldn't let him. "Those are my rattles! That was my snake!"

We all know Monty was friends with everyone he met. Going out with him would be his chance to introduce himself and companions, all by their full names and titles. It didn't matter if the person was a passerby, café waitress or Walmart greeter. "Hi, I'm Monty Bill Malmberg and this is my sister Inger and my little niece Stephanie, and Jack Malmberg my dad, and my stepmother, Robin." When Monty and Jack were wrestling on the floor one time, Monty's leg went "pop" and we were headed to the emergency room. Stephanie remembered Monty introducing the paramedics to all of us…" This is my little niece, Stephanie, my sister Inger, Jack…" He was still introducing people because he was so tough. He wasn't concerned about his broken leg, but everybody had to know everybody.

Let me tell you about mealtime with Monty Bill Malmberg. Do you have a couple of hours? I swear, he could sit with the food balanced on his fork, poised near his mouth, everyone at the table watching and never put that forkful in his mouth. We'd soon be saying, "Eat! Monty, you're taking forever to eat! Let's Go!" Monty didn't like to be rushed and would take his time no matter what we said.

Monty had a thing for trains. Back when Stephanie was about 6 or 7, Jack arranged a vacation to visit Rita; Inger, Steve and Monty's mom, in Santa Barbara, CA.
Monty, Jack and Robin flew to San Francisco. Stephanie and Inger flew in from Washington State. We bought Amtrack tickets to ride down the California coast, thinking this would be so great for Monty! A long train ride along the ocean with his family. Well, Monty was pretty impressed by the length of the train as we got on board and found some seats. No sooner had the conductor called, "All Aboard!" when the train pulled from the station. "Monty! Monty! Look out the window, the train is moving," Inger said. But, Monty had fallen asleep. He stayed asleep during the ENTIRE train ride, until we arrived in Santa Barbara. He never did remember riding on that train.

Jack let Monty drive his pickup from time to time on the Coal Mine Road outside of Hudson. He would honk if something was in the road and get right in the ruts and get to looking at something until he simply drove off the road. He preferred manual transmissions so he could shift. Always with a big grin on his face.

We all know Monty Bill Malmberg had a big heart. He tried his best, and usually insisted that he knew what was best. Didn't like to be told what to do. Monty never met a stranger. He was positive. Monty was generous. A devoted uncle, brother and son. Monty's remains will join his brother Steve and Uncle Don on the family plot at Twin Creek.
To send flowers or a remembrance gift to the family of Monty Bill Malmberg, please visit our Tribute Store.
Previous Events
Service
Chapel of Mount Hope ~ Hudson's Funeral Home & Crematory
680 Mount Hope Drive
Lander, WY 82520
Memorial Contribution
Saying only
Smile
Lander, WY 82520
As a memorial: Tell someone you love then just because you do. Always remember Jesus loves you because He really does.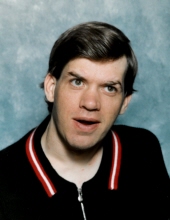 Thank you for sharing your
memory of Monty
Provide comfort by sending fresh
flowers from our local florist.
No thanks, please don't show me this again.